Posted on
October 11, 2020
in
Bibcock Ball Valve
Are you working on a pharmaceutical or chemical process industry? Or have you worked in textile manufacturing? If you do, maybe you know bibcock ball valves are parts of the quarter-turn valves. By turning a handle that is linked or attached to a ball that is inside the valve, it opens. These valves move in response to mechanical or fluid pressure.
What a Bibcock Ball Valve?
A valve with a spherical disc is called a ball valve. With the fast development of technology, as well as the ceaseless improvement processing method and product structure, this has been one form of main valves in recent years. Our bibcock ball valves are used with increasing speed at home or any industries such as long-distance transport pipes, petroleum refining, paper making, chemical, electricity, water treatment, etc.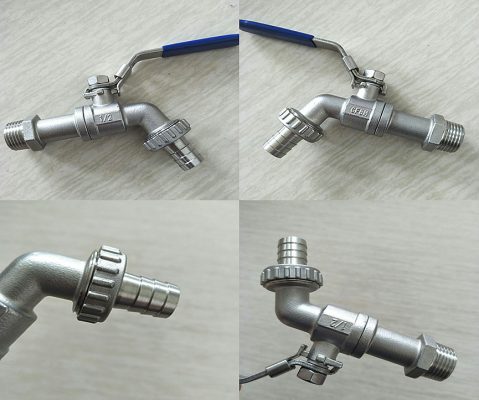 Mechanism
There is a ball inside the valve with a port. Once this is line up with the valve ends, the liquid can flood smoothly in it. After closing the valve, the hole becomes vertical to the ends of the valve, impending the stream of liquid.
Many diverse industries utilize this ball valve to control fluid. A number of these include gas and oil manufacturers and paper manufacturers, petrochemical, power plants, textile manufacturing, water and sewage plants, and many others.
What are the Advantages of Bibcock Ball Valve?
There are many benefits our bibcock ball valves offer. Some of these include:
Efficient: Our bibcock ball valves do not need lubrication.
Affordable: Our ball valves can be bought at a competitive rate when you look into other products available out there.
Durable: Our ball valves provide a long life.
User Friendly: Our ball valves are very easy to handle.
Strong: Our products can handle high volume, high pressure.
Easy to Fix: Our ball valves are easy to fix.
The fact that our valve stem rotates, the packing seal is not broken easily, and the scaling capability boosts as the medium pressured enhances. The operation is rapid and simple, and it just requires to be rotated by a ninety percent degree from full opening to full closing that is convenient for long-distance control. Our ball valves are ideal for an extensive array of uses, from few meters, few millimeters, or high vacuum to high pressure.
The application of ball valves provides many perks to many industries in the world at this point. Without these, controlling fluid will surely be a big issue for those processing and manufacturing companies.
For more information about bibcock ball valves or your orders, please feel free to call our customer hotline number or browse our website for other types of products.
Related posts